Just Because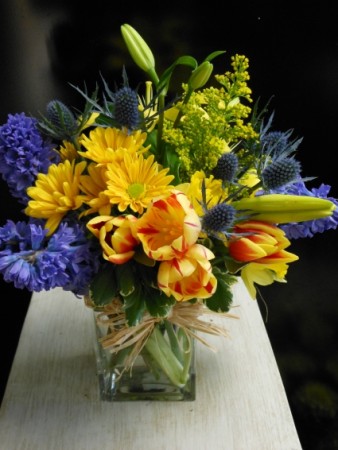 Blue hyacinth and blue mountain thistle set off these yellow/orange variegated tulips for an impressive spring bouquet. Flowers may be substituted due to availability at equal or greater value
Shown at $83.00
WILD SPRING
EN-23
Blue hyacinth and blue mountain thistle set off these yellow/orange variegated tulips for an impressive spring bouquet. Flowers may be substituted due to availability at equal or greater value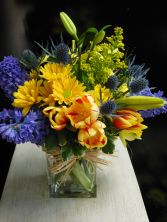 $83.00
$93.00
$118.00
Shown at $83.00
Shown at $83.00

WILD SPRING

EN-23

Blue hyacinth and blue mountain thistle set off these yellow/orange variegated tulips for an impressive spring bouquet. Flowers may be substituted due to availability at equal or greater value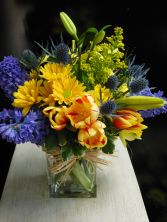 $83.00
$93.00
$118.00
Shown at $83.00
ENCKE FLOWERS, Teaneck's century-old florist, always has floral arrangements and gifts perfect for special occasions, but sometimes you don't need a reason to remind someone you care. That's why thinks "Just because" is one of the best reasons to say:
ENcke Flowers is a full service organic florist with commitments to the highest aesthetic standards, the science of flower care, as well as environmental sustainability. We are one of the only retail florists in the NJ/New York metropolitan area featuring a selection of Fair Trade certified flowers. We also carry a full line of Fair Trade gifts, coffees, textiles and Fair Trade certified sports balls. Tiger Lily Flowers' award-winning design team is ready to help create floral art for delivery to Teaneck, Bogota, Ridgefield Park, Hackensack, Englewood, Englewood Cliffs, Fort Lee, Leonia, and all of Northern New Jersey and Manhattan.
For the observant Jewish community, we have special Shabbos flower deliveries that are guaranteed to arrive an hour before Shabbat each Friday. If you place a standing order for Shabbat flower deliveries for your family or loved ones in Teaneck, Bergenfield, Englewood or the surrounding towns and receive free delivery, plus special flower arrangements for the High Holidays. At Tiger Lily Flowers and our wedding design team, Tiger Weddings, our expert designers are fully conversant with Orthodox Jewish wedding customs and requirements; we have our own selection of wedding chuppahs in wood and wrought iron. From the aufruf to the bedeken, and on to the chuppah, Teaneck's own Tiger Lily Flowers speaks Jewish!

Encke Flowers & Gifts in Teaneck, carries on the heritage of the oldest continuing retail flower business in New Jersey. Encke Flowers & Gifts, located at 281 Queen Anne Road at the border of Teaneck and Bogota, was founded by Herman Encke in 1906. Encke Flowers is not just the oldest, but the most experienced flower shop with the finest floral design team in the New Jersey and New York metropolitan area. We think you will agree that Tiger Lily and Encke Flowers are among New Jersey's very best florists. Be sure to review us on Yelp!, Google Places, and Yahoo.

As the Hackensack area's premier wedding florist, Tiger Weddings, Tiger Lily and Encke Flowers' wedding flowers design experts have put together a wonderful portfolio of our elegant bridal bouquets and wedding centerpieces. Come visit our online galleries at Tiger Weddings!
Encke Flower's design team has won numerous awards from the most prestigious organizations in the floral industry. We are first and foremost artists, and art leads our business philosophy. If for any reason you are dissatisfied with one of our arrangements, just give us a call and we will replace it and/or redeliver a fresh arrangement. Encke Flowers reliably delivers to Teaneck, NJ, Hackensack, NJ, Englewood, Englewood Cliffs, Maywood, Tenafly, Leonia, Bogota, Bergenfield, Fort Lee, Palisades Park, Ridgefield Park, and Paramus, NJ.
Encke Flowers is a proud member of the organizing committee that recently won designation for Teaneck, NJ as the US's 21st Fair Trade City! Read about us on our Fair Trade Teaneck website and in The Record! Read about us also on Teaneck Patch!