Casket Sprays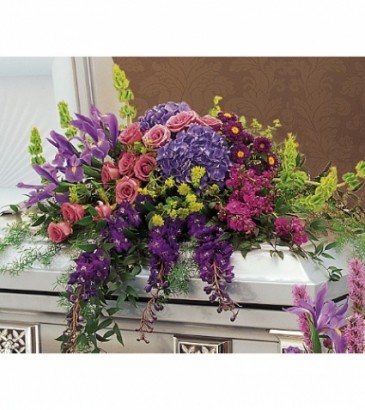 Graceful Tribute Casket Spray
SY101
This half-couch casket spray with its gorgeous flowers gracefully comforts your loved ones. One half-couch casket spray features fragrant lavender roses, blue hydrangea, blue iris, hybrid delphinium and soft green foliage accents.
Funeral Casket Sprays - by Encke Flowers
Our expert designers can create a very special tribute to your loved one that evokes their memory and celebrates their life. Encke Flowers specializes in funeral tributes, and we keep abreast of the most contemporary design trends. We offer the following gallery for some suggestions for size, shape and flower choices. We custom design each of our sprays, and we can usually change the colors of the arrangements pictured herein (depending on flower availability.) We can also create custom printed ribbons in gold or silver leaf for your special message for an elegant presentation.