Get Well Flowers
Hospitals and Health Care Providers in Our Delivery Area:

| Name | Address | Phone |
| --- | --- | --- |
| Birthplace At Holy Name Hosptl | 718 Teaneck Rd Teaneck, NJ. 07666 | (201) 833-7100 |
| Bright Side Manor | 300 Teaneck Rd Teaneck, NJ. 07666 | (201) 692-1000 |
| Holy Name Hospital | 718 Teaneck Rd Teaneck, NJ. 07666 | (201) 833-3000 |
| Teaneck Nursing Ctr | 1104 Teaneck Rd Teaneck, NJ. 07666 | (201) 833-2400 |
| Teaneck Senior Citizens | 5 Dogwood Ln Teaneck, NJ. 07666 | (201) 833-1033 |
| Actor's Fund Nursing Home | 155 W Hudson Ave Englewood, NJ. 07631 | (201) 568-3762 |
| Actor's Fund Nursing Home | 175 W Hudson Ave Englewood, NJ. 07631 | (201) 871-8882 |
| Englewood Hospital & Med Ctr | 350 Engle St Englewood, NJ. 07631 | (201) 894-3000 |
| Inglemoor Nursing & Rehab Ctr | 333 Grand Ave Englewood, NJ. 07631 | (201) 568-0900 |
| Monica Tadros, Md, Facs | 300 Grand Ave #104 Englewood, NJ. 07631 | (201) 408-5430 |
| Nj Institute-Advancement-Med | 350 Engle St Englewood, NJ. 07631 | (201) 894-3653 |
| Wound Care Ctr-Englewood Hosp | 350 Engle St # 3e Englewood, NJ. 07631 | (201) 894-3361 |
| Cross Hudson Plastic Surgery | 520 Sylvan Ave #202 Englewood Cliffs, NJ. 07632 | (201) 751-9490 |
| Kuala Healthcare Inc | 910 Sylvan Ave Englewood Cliffs, NJ. 07632 | (201) 567-4600 |
| Grand Court Lifestyles Inc | 1 Executive Dr # L15 Fort Lee, NJ. 07024 | (201) 947-7322 |
| Malcolm Towers | 475 Main St Fort Lee, NJ. 07024 | (201) 461-6780 |
| Bristol Manor Health Care Ctr | 96 Parkway Hackensack, NJ. 07601 | (201) 845-0099 |
| Care One | 411 Hackensack Ave # 7 Hackensack, NJ. 07601 | (201) 996-9111 |
| Hackensack Housing Authority | 65 1st St Hackensack, NJ. 07601 | (201) 342-4280 |
| Hackensack Medical Ctr | 30 Prospect Ave Hackensack, NJ. 07601 | (201) 996-2000 |
| No Nj Cancer Trtmnt & Prvntn | 20 Prospect Ave # 401 Hackensack, NJ. 07601 | (201) 996-5800 |
| Regent Care Ctr Inc | 50 Polifly Rd Hackensack, NJ. 07601 | (201) 646-1166 |
| Regional Cancer Care Associates | 92 2nd St Hackensack, NJ. 07601 | (551) 996-5900 |
| Regional Cancer Care Associates | 92 2nd St Hackensack, NJ. 07601 | (551) 996-5900 |
| Rolando Cibischino, Dmd | 71 Summit Ave Hackensack, NJ. 07601 | (201) 342-7742 |
| Wellington Hall | 301 Union St Hackensack, NJ. 07601 | (201) 487-4900 |
| Lydecker Manor | 150 E Passaic St Maywood, NJ. 07607 | (201) 368-0926 |
| Bergen Regional Medical Ctr | 230 E Ridgewood Ave # 14 Paramus, NJ. 07652 | (201) 967-4000 |
| Brighton Gardens | 186 Paramus Rd Paramus, NJ. 07652 | (201) 251-9600 |
| Cupola | 100 W Ridgewood Ave Paramus, NJ. 07652 | (201) 444-8200 |
| Dellridge Care Ctr | 532 N Farview Ave Paramus, NJ. 07652 | (201) 261-1589 |
| Hartzband Center For Hip & Knee Replacement L.l.c. | 10 Forest Ave #200 Paramus, NJ. 07652 | (201) 291-4040 |
| Maxim Hair Restoration | 30 W Century Rd., Suite 220-a Paramus, NJ. 07652 | (201) 917-2400 |
| Mount Saint Andrew Villa | 55 W Midland Ave Paramus, NJ. 07652 | (201) 261-5950 |
| Parker Center For Plastic Surgery | 122 East Ridgewood Ave Paramus, NJ. 07652 | (201) 967-1212 |
| Pine Rest Health Ctr | 90 W Ridgewood Ave Paramus, NJ. 07652 | (201) 652-1950 |
| Plastic Surgery Specialists Of New Jersey: Frank J | 2 Sears Dr #103 Paramus, NJ. 07652 | (201) 664-8000 |
| Sunrise Of Paramus Asst Lvg | 567 Paramus Rd Paramus, NJ. 07652 | (201) 493-9889 |
| The Spine & Rehab Group | 140 Nj-17 Paramus, NJ. 07652 | (201) 523-9590 |
| Vein Care Center Nj | 140 Nj-17 Paramus, NJ. 07652 | (201) 849-5135 |
| Veterans Home | Po Box 608 Paramus, NJ. 07653 | (201) 967-7676 |
ENCKE FLOWERS & GIFTS of TEANECK, NJ (NJ) takes great pride in being a part of our customers' lives. We respect this role, and we are ready to help you send get well wishes to your friend or loved one. We know that you want to show them that you care, and there is no better way than to send one of our 100% organic arrangements or a Fair Trade gift basket filled with organic and Kosher snacks, Fair Trade/organic bath products, unique jewelry and accessories, or a favorite organic stuffed animal. We specialize in spreading warmth and good cheer!
Whether you are looking for something more traditional or contemporary, Encke Flowers' award-winning designers are ready to interpret your ideas and perform a gorgeous and lasting floral arrangement to meet your taste.
Scroll down to browse and order online from our sample selection of get well flowers and plants or call to customize a gift for that special someone. Let ENCKE FLOWERS of TEANECK, NJ (NJ) help you wish a loved one a "Get well soon".
We deliver floral arrangements and gift baskets to all of the local hospitals and long-term care facilities in Teaneck, Hackensack, and Bergen County including: Holy Name Hospital in Teaneck, Englewood Hospital in Englewood, Hackensack University Hospital in Hackensack, Care One Facility in Teaneck, and Bergen Regional Medical Center in Paramus.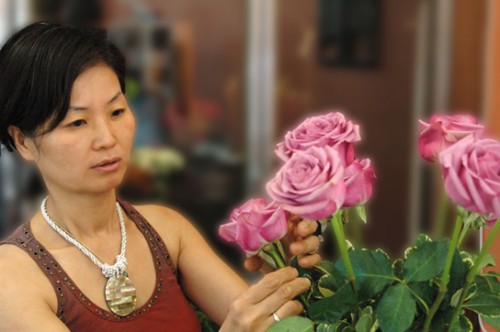 Encke Flowers' lead designer, Jennifer Lee.