Birthday Flowers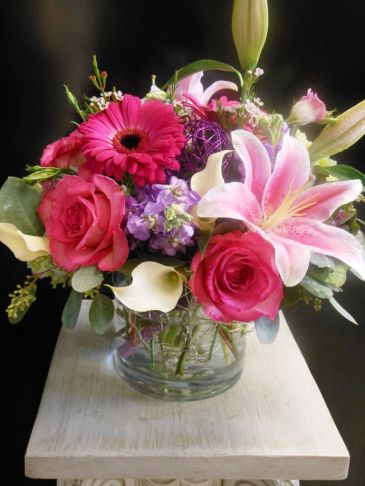 Make it a special day! This passionate bouquet is one she'll hold close to her heart forever. Beautiful sweet unique pink roses, pink oriental lilies, pink Gebra Daisy, miniature white calla lily pink waxflower and lush seed Eucalyptus in clear vase
Shown at $114.00
PINK SPLENDOR
Make it a special day! This passionate bouquet is one she'll hold close to her heart forever. Beautiful sweet unique pink roses, pink oriental lilies, pink Gebra Daisy, miniature white calla lily pink waxflower and lush seed Eucalyptus in clear vase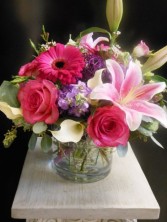 $94.00
$114.00
$148.00
Shown at $114.00
Shown at $114.00

PINK SPLENDOR

Make it a special day! This passionate bouquet is one she'll hold close to her heart forever. Beautiful sweet unique pink roses, pink oriental lilies, pink Gebra Daisy, miniature white calla lily pink waxflower and lush seed Eucalyptus in clear vase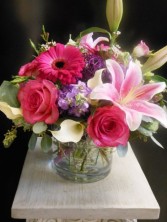 $94.00
$114.00
$148.00
Shown at $114.00
Happy Birthday can be expressed with the gift of flowers from ENCKE FLOWERS in Teaneck, NJ
Happy Birthday, indeed. Hip, hip, hooray. Huzzah! We may have gone overboard a bit with the descriptions of our newest birthday arrangements, but there you have it. Encke Flowers is here for you to deliver your birthday greetings when you're traveling out of town, when you want to surprise your friend or loved one at work, or any time you want to let them know that they are well-loved and well-considered. We deliver birthday arrangements all over Bergen County, including Teaneck, Hackensack, Englewood and the surrounding towns.
For a modest fee and some encouragement, our driver will also deliver a rousing rendition of "For S/he's a Jolly Good Something." We wouldn't joke about that.
If you've Googled your way to our site, you should consider yourself damn lucky. You've found the very best florist in all the land, and we're standing here, poised by the telephone to communicate your most profound and earnest "happy birthday" greetings. And sing. So don't hesitate. Don't dawdle. Give us a call and we'll make your wildest birthday dreams come true. Or at least send some flowers.