Sympathy Flowers
A funeral for a friend or loved one can be difficult, but funeral flowers from ENCKE FLOWERS of Teaneck, NJ (NJ) can help begin the healing process. Funeral flowers provide the opportunity to express how much the departed means to you. Celebrate the life of your loved one with one of the beautiful funeral flower arrangements found here such as: Classic Remembrance Urn, Mixed Flowers Sympathy Tribute or one of our Standing Sprays.
Browse our funeral flowers page to find the perfect sympathy arrangement and place your order online. You can also call and speak with a designer at ENCKE FLOWERS in Teaneck, NJ (NJ) for funeral flowers just as unique as your friend or loved one.
Our expert designers can create a very special tribute to your loved one that evokes their memory and celebrates their life. Encke Flowers of Teaneck, NJ specializes in funeral tributes, and we keep abreast of the most contemporary design trends. We offer the following gallery for some suggestions for size, shape and flower choices. We custom design each of our sprays, and we can usually change the colors of the arrangements pictured herein (depending on flower availability.) We can also create custom printed ribbons in gold or silver leaf for your special message for an elegant presentation.

Our selection of Sympathy & Funeral hearts and wreaths & standing spray from Encke Flowers Teaneck, NJ includes traditional as well as the most contemporary tributes for your loved one. If you would like to combine elements from two or more of the examples shown, or if you would like to substitute flowers or colors, call us and speak with one of our designers to create your personalized memorial.

Whether you are looking for contemporary or more traditional aesthetic, our designers can accomodate you. You can select from a solid design composed of carnations, roses or chrysanthemums, or a more rustic, country look using birch branches, wild vines or other materials. Let us help you find the just the right choice for your service.
Encke Flowers has a wide selection of funeral and sympathy arrangements. Our expert florists can help you order the right funeral flowers to communicate condolences from you, your family or business to the bereaved.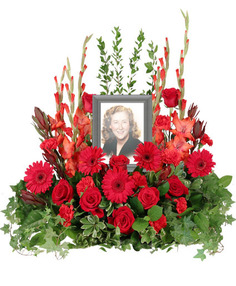 Cremation and Memorial Flowers
Flowers serve as an inspiration and a tribute to friends and loved ones during trying times. Cremation urn and memorial flowers can act as a personal expression of love or as a warm send-off. When you work with ENCKE FLOWERS , we endeavor to illustrate the essence and memory of your loved ones with a beautiful floral expression of their lives. Our selection of floral inspiration covers a wide variety of personalities and tastes. Looking for something different, or want to add a personal touch? We also do custom arrangements. Call for pricing.